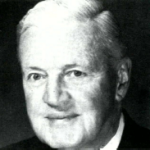 Jack Gray stepped down as General Manager in March 1970, after 20 years with the RCAF Association. J.C. Gray, General Manager of the Royal Canadian Air Force Association from 1952 until his retirement early this year, will be honored at a special luncheon on Thursday, October 1st—to be called
the "The Jack Gray Luncheon" — during the National Convention in St. John's. This special tribute to one of the Association's most beloved members has aroused great interest in all Wings. In addition to a presentation from the Association there will be tributes to Jack from many of the Past Presidents of the Association who have benefitted from Jack's administrative skills. Jack Gray joined the Royal Flying Corps as a cadet in January 1918. In World War II he joined the RCAF and retired with the rank of Wing Commander in 1945. Jack continues to live at 2070 Knightsbridge Road in Ottawa, where
he now has more time to tend to his beautiful garden and indulge in his favorite past-time of following the sports scene. Jack will be accompanied by his wife Mary to Newfoundland for this special occasion.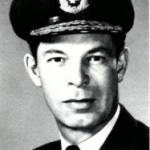 Air Vice Marshal Frank Ball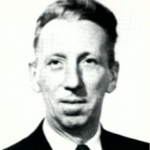 Profile: Fred H. Nielsen, CD
A new retirement image is being projected by Fred H. Nielsen, executive officer at National Headquarters. Fred joined the RCAF in Ottawa in 1928 at a very young age and retired in 1958 with the rank of Squadron Leader. Since then, he has been a manager of a large hotel in Red Deer, Alberta, manager of a Golf and Country Club in Vancouver and, from 1961 to 1965, with the Department of External Affairs serving a tour of duty at NATO Headquarters in Paris, France, in the Defence Liaison Division. He joined the National Headquarters staff in September of 1965. During his service career he served at Camp Borden, Ottawa, Vancouver, Regina, Edmonton, Penhold, and overseas during World War II. Fred was born, raised and educated in Ottawa. Mrs. Nielsen is the former Martha Giles of Sarnia and Ottawa. They have three children: Bob is studying for his Masters degree at Guelph; Stephen is in a managerial position in St. Catherines; and Margo is married to Richard Gladwin and residing in Ottawa. Marty and Fred boast of three grandchildren, Brett, Peter and Marina Nielsen. Fred's duties with the RCAF took him Fred H. Nielsen, CD across Canada where he invariably made a considerable contribution to the field of sports, service clubs and other organizations in various communities. He is a past director of Rotary Club, Optimists Club, Toastmasters Club, Canadian Legion, and is at present a Director of the Gyro Club in Ottawa and of the National Capital Minor Hockey Association. Fred in his younger days was an athlete of note having played hockey, baseball and lacrosse in Ottawa, Barrie and Vancouver. After retiring as an active player he coached hockey extensively in the Junior and Senior calibre. For many years he has coached minor boys hockey and was responsible for organizing Minor Hockey Leagues in many centres in Canada. He was a scout for Toronto Maple Leafs in central Alberta from 1953 to 1959. Fred Nielsen has been a member of the RCAF Association for 19 years as a member at large and serving member in 703 and 410 Wings. On many stations where he served he assumed the duties of Benevolent Fund representative, and upon retirement from the service was civilian representative of the fund for central Alberta. His hobbies are stamp collecting, bowling, square dancing, golf, and dixieland music. Fred Nielsen's chief concern is the well-being of ex-RCAF personnel. He is dedicated to minor hockey which, he feels, develops future responsible citizens.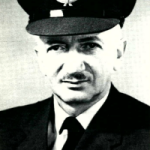 LCol R.W. "Ron" Butcher, DFC, CD. Born and educated m Sackville, N.B. Ronald Butcher enlisted in the RCAF in 1942 as an AC2 aircrew can­didate and received basic navigation training at 4AOS Crumlin at London, Ont. before commissioning as a Pilot Officer and transfer overseas. After OTU training he joined 408 Squadron as a Flying Officer and com­pleted 29 trips over enemy targets fly­ing Lancaster aircraft. His crew was screened from operations with the dis­tinction of being the first squadron crew to complete a normal tour during the time they were on strength. Flying Officer Butcher was awarded the Distinguished Flying Cross in Au­gust, 1944. From June, 1944 until war's end he was employed on the navigation in­structional staff at 1664 Heavy Con­version Unit at Dishforth and 1659 Heavy Conversion Unit at Topcliffe as officer-in-charge Navigation Ground School. Returned home from overseas as a member of Tiger Force he carried out administrative duties at Summerside, P.E.I., and subsequently flew as a navi­gator ferrying Lancaster X aircraft from Scoudouc N.B. to Western air­fields. Flight Lieutenant Butcher left the RCAF in October 1945 to join the family construction business. In 1949 he joined the newly-formed RCAF As­sociation as a life member-at-large. He rejoined the RCAF as a Flying Officer navigator in 1951 and that same year transferred into the growing Construction Engineering branch. For nearly a year he was employed at Air Force Headquarters and worked on projects and construction inspections involved with the establishment of European air bases for the RCAF air division. From February 1952 until May 1954 he was station construction engineering officer at RCAF Station Saskatoon. After a year-and-a-half at Winnipeg's 14 Training Group HQ, Flt Lt Butcher was named Station C.E. officer at RCAF Stn. Greenwood, N.S. He left Greenwood in 1959 to serve as a staff officer with the AFHQ Directorate of Construction Engineering until mid 1963. He was promoted to Squadron Leader rank in 1960. Since that time he has served at Downsview, Ont. During his first year at the Toronto base as the Station C.E. officer he transferred from RCAF Assn member-at-large to become a wing member of 442 (David Hornell VC) Wing. Later, as Downsview's Chief Technical Services Officer he served as RCAF Project Officer to as­sist the RCAF Assn Toronto Region in refurbishing a Lancaster for display at Toronto's Canadian National Exhi­bition. Promoted to Lieutenant-Colonel in 1966 he was appointed Downsview's Base Technical Services Officer. As second-in-command of the base it was his responsibility to act as station com­mander during absences of the incum­bent and during changes in command. In addition to his primary duties which included many community com­mitments Lt-Col Butcher acted as mili­tary liaison officer for Toronto Region RCAF Assn and eight wings in the area from Oshawa to Oakville. Recently he oversaw the move of liaison responsi­bilities for eight wings in the Kitchener to Windsor area from CFB Clinton to Downsview. The change resulted from the closure of the military base at Clin­ton, Ont. One of his first duties as the new General Manager of the RCAF Asso­ciation will be attendance at the Na­tional Convention at Saskatoon.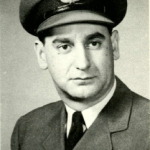 WComd J. Douglas Harvey, DFC – SQUADRON Leader J. Douglas Harvey,
DFC, CD has been appointed to the post of Director of Public Relations for the RCAF, with simultaneous promotion to the rank of Wing Commander. He took over his new post in August after a two-year tour of duty as Staff Officer Public Relations (SOPR) at No. 1 Air Division Headquarters, Metz, France. W. C. Harvey was awarded the DFC while with 408 Bomber Sqdn. in England between 1942 and 1944. He left the service after the war to take his BA degree at the University of Toronto and returned in 1948. re-joining the pilot branch, from which he transferred to the Directorate of PR in 1954.