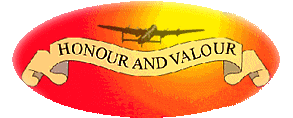 The Air Force Cross
Awarded to Officers and Warrant Officers for an act or acts of valour, courage or devotion to duty whilst flying but not in active operations against an enemy.
---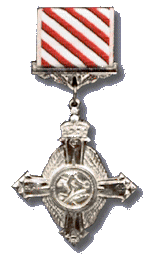 Obverse: A thunderbolt in the form of a cross, the arms conjoined by wings, the base bar terminating with a bomb surmounted by another cross composed of aeroplane propellers, the four ends enscribed with the letter G (top), R (left), V (bottom), I (right).Current Royal Cypher has E II R with the bottom blank. In the center is a roundel, theron, a representative of Hermes mounted on a hawk in flight bestowing a wreath. The whole is ensigned by an Imperial Crown. Silver cross 1 5/8 inches across.
Reverse: Royal Cypher above date 1918 in a circle. Year of award appears on lower arm from 1939 on. Issued unnamed.
Mounting: A small link at the top of the crown attaches to a slot in two sprigs of laurel. The laurel is attached to the bottom of a straight clasp.
Ribbon: 1 1/4 inches; Red and White alternate diagonal stripes 1/8" at 45 degrees left to right. The Red colour is to appear in the bottom left and upper right corners when viewed on the wearer's chest. The stripes were originally horizontal (changed 1910).
Issued: George V--71; George VI--427 (1 bar); EIIR--29 as of 1983.
Example
W/C H.R. Norris, AFC, CD.-- awarded AFC in 1945 for outstanding work as a pilot instructor with the BCATP in WWII. This gallant RCAF pilot died in 1957 when he chose to fly his CF-100 into Lake Ontario rather than eject and risk injuring those watching the C.N.E. annual airshow.

The Distinguished Flying Cross
The Royal Red Cross (Associate)
---
Return to Honours & Awards Main Index