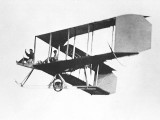 February 4, 1915
by Charmion Chaplin-Thomas
At Shoreham Camp in Sussex, 22-year-old Lieutenant W.F.N. Sharpe of Prescott, Ontario, whose commission appeared in the Gazette only yesterday, takes off for his first solo flight as a pilot of No 3 (Reserve) Squadron, Royal Flying Corps. Unfortunately, something goes wrong with the primitive aircraft and it plummets to the ground, killing Lt Sharpe and bringing an end to an odd episode in Canadian military aviation.
Lt Sharpe?s journey to this moment began in September 1914 at Valcartier Camp, where he was one of the 30 000 volunteers being herded into the Canadian Expeditionary Force by the Minister of Militia and Defence himself, Lieutenant-Colonel Sam Hughes. Although he was one of only four Canadians certified as a pilot by the Aero Club of America, Lt Sharpe had no hope of finding a flying job among the infantry battalions of the CEF until the day he met Captain Ernest Lloyd Janney.
Capt Janney is known back home in Galt, Ont., as ?a high flyer all right, but the meaning of the term is entirely different from that normally applied to an aviator.? At Valcartier, however, he was in command of the Canadian Aviation Corps (CAC), with documents to prove it?plus authorization in the Minister?s own handwriting to purchase ?one biplane, with necessary accessories, entailing an expenditure of not more than $5 000.? Lt Sharpe accepted Capt Janney?s invitation to become the CAC?s first and only pilot.
As soon as he finished recruiting Lt Sharpe, Capt Janney hurried to Marblehead, Massachussets, where he bought a Burgess-Dunne seaplane, previously the property of the US Navy, that may have been the only aircraft within the Minister?s price range that was both available and close to Qu?bec City. The Burgess-Dunne was a unique tailless hydro-plane with swept-back wings that made it so stable it could fly itself as long as the engine was running well; unfortunately, the engine on Capt Janney?s aircraft needed an overhaul. The Burgess Company shipped the machine by rail to Isle La Motte, Vermont and on September 21, 1914, it set off for Qu?bec City flown by Clifford Webster, a company pilot, with Capt Janney in the second pilot?s seat.
After a severe engine failure and a week of waiting for parts at Deschaillons, Que., the Burgess-Dunne finally arrived at Qu?bec City on September 29. It was loaded aboard the SS Athenia in pieces: the wings and engine were boxed up and stowed in the hold, and the fuselage was tied to the deck where it would bounce and lurch with every movement of the ship. By this time, the CAC had also acquired Sergeant Harry Farr, an aircraft mechanic recruited from a Victoria battalion by Lt Sharpe, and the three aviators found billets in the SS Franconia. The First Contingent departed Quebec on October 3, 1914.
In England, while the Canadian battalions drilled on Salisbury Plain, Capt Janney drew up a grand plan for the Canadian Aviation Corps: with eight aircraft (four operational and four spares), five horses, 10 trucks and 46 men, he reckoned it would cost $116 679 25. After presenting this proposal to the First Contingent?s astonished commanding officer, Lieutenant-General Sir Edwin Alderson, Capt Janney drew an advance from the paymaster and set off to tour England, allegedly in search of a suitable site for the CAC aerodrome. Nothing was heard from him for many weeks, and in his absence LGen Alderson struck the CAC from his establishment?easy to do, as no organization order had been issued to create it officially, and none of its members had been correctly enrolled in the CEF.
Lt Sharpe found a home with the Royal Flying Corps, and Sgt Farr eventually joined the Royal Naval Air Service, where he earned the Distinguished Service Cross and the Distinguished Flying Cross. In January 1915, Capt Janney surfaced again in Canada, as the organizer of a series of flying exhibitions to raise funds for the CAC; on hearing this news, LCol Hughes had him dismissed from the Militia.
The Burgess-Dunne never flew again. Damaged beyond repair during the voyage, it sat in the mud of Salisbury Plain until 1916, when its metal parts were sold as scrap.