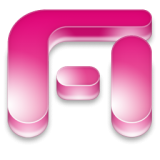 Airforce Magazine Database of Articles (XML Access 2007)
---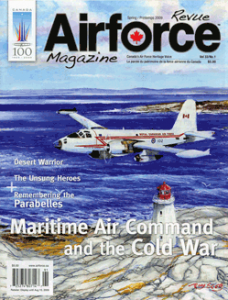 Volume 33, No. 1, Spring 2009
A Dart in my Heart ? The genius behind the 1958 re-creation of Canada?s first successful aircraft, the Silver Dart, tells his story. Former Leading Aircraftsman Lionel McCaffrey and his team of air force craftsmen built the replica to celebrate the 50th Anniversary of Powered Flight in Canada in 1959. Challenging the Submarine Threat – Maritime Command and the Cold War ? A look back to the 1950s and 60s when Maritime Air Command anti-submarine aircraft roamed Canada?s oceans in search of foreign threats. The Unsung Heroes – The story of a WW II RAF navigator who was killed in a Lancaster bomber in 1944, but also the story of two Canadian airmen on the same crew who also perished. Staking a Claim – The RCAF Asserts Arctic Sovereignty ? In January of 1962, an RCAF camera operator aboard a photo survey Lancaster aircraft flying over the North Pole marks the location by jettisoning a film can containing the names of the crew. Held the Sky Suspended – Noted author Ted Barris describes the British Commonwealth Training Plan activities in the Toronto area during WW II. Sergeant Roland ?Roly? Clement – An Unsung Hero ? During a maritime patrol aboard a Neptune sub hunter, Sgt Roly Clement risks his life to free up a stuck nose wheel. Hunting Desperados with Airplanes – During the First World War, aviators of the Royal Flying Corps in the Kingson/Belleville area of Ontario are enlisted to track down gangsters ? a novel idea for the times. Desert Warrior ? The Life and Times of Albert Albert Houle, DFC and Bar, CD ? Ottawa historian Tom Ritchie looks back over Bert Houle?s accomplishments over a lifetime of adventure. Remembering? The Para-Belles: First pararescue nurses ? Long before gender equality came into vogue, RCAF nursing sisters did double duty as search and rescue para-jumpers. Celebrating the Gooney Bird – A retrospective on the C-47 Dakota, the workhorse of the air transport world for over half a century.
---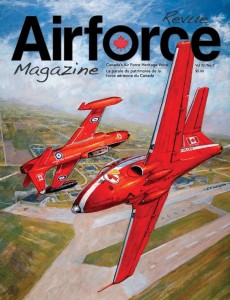 Volume 32, No. 3.?
Fall 2008
Cover story ?Knights with Red Wings?
features the RCAF Red Knight who thrilled Canadian and American air show audiences from 1958 to 1969 in his bright red T-33 jet.?The Frozen Chosen? ? 50 years after the northernmost inhabited place on the globe was built, a former RCAF construction worker recalls the construction of the base at Alert, NWT. The Bath Towel Rescue? -? A young pilot awaiting training in 1955 recalls an air search for two survivors of a plane crash in Northern Manitoba. ?Lancs in the Fifties – A Salute to Canada?s Cold War Lancasters? ? To mark the 50th anniversary of the last flight of Lancaster No. FM 159, now the central attraction at the Nanton Lancaster Society Air Museum in Nanton, Alta, two of the aircraft?s engines are brought to life before an admiring crowd. ?Robert Hyndman – Fighter Pilot, War Artist, Teacher? ? Still going strong at age 94, multi-talented Robert Hyndman had a brilliant wartime career as a fighter pilot and war artist.
---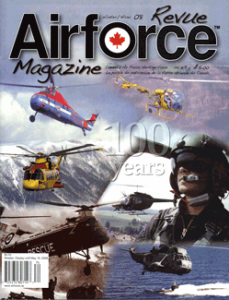 Vol. 31 – No. 4.
Winter 2008
"100 Years of the Helicopter"
– Cover feature will celebrate a century of rotary-wing operations.
?Ansbach, the Apache and the Decline of the Canadian Army?s Air Force?
– A look back at the army?s agonizing decision on whether to acquire a helicopter gunship capability.
?Super Herc?
– The C-130J Super Hercules is slated to greatly enhance Canada?s airlift capabilities.
?The Sea King Saga: Attrition by Numbers?
– A critical look at Sea King helicopter accidents over a period of 40 years.
?The Last Flight of Sergeant Don Scratch?
– A disgruntled WW II pilot steals a B-25 bomber and terrorizes Canada?s West Coast.
?Ear in the Sky?
– The COSPAS-SARSAT satellite celebrates 25 years of aiding search and rescue around the world.
?Honouring our Heritage?
– A memorial stones park is dedicated at 19 Wing Comox, BC.
?Weather – The Other Enemy?
– A former navigator describes the impact that weather had on bomber operations during WW II.
?75 Years for 400 Squadron?
– Canada?s oldest squadron celebrates 75 years of excellence in both war and peace.
?Saluting Canada?s Veterans?
– The Canadian Harvard Aircraft Association in Tillsonburg, Ont, salutes Canada?s veterans by performing flypasts over Ontario cities and towns on Remembrance Day
---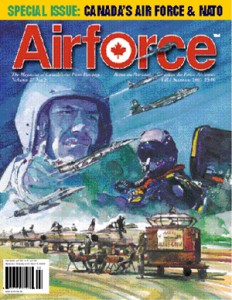 ---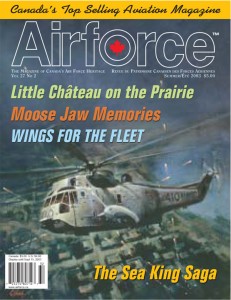 ---
---
---
---
---
---
---
---
---
---
---

Cover Story – "Artflight ?99″. Paintings by Canada?s top aviation artists entered in the National Aviation Museum?s annual art competition are featured. The Entertainers. Writer Bill Twatio takes us back to the entertainment scene in war-torn England. Meet Bill Wheeler – Canada?s Senior Aviation Editor Historian and author Larry Milberry profiles aviation artist, historian, author and all-around good guy, Bill Wheeler, editor of Canadian Aviation Historical Society Journal. The Danish File. A fascinating series of recent correspondence between a WW II wireless air gunner who was captured in Denmark after bailing out during WW II, and the Danish civilians who attempted to help him. The World?s Oldest Airman? Flight Sergeant Joseph Bloor saw British Army service in the Boer War, and WW I then served in the RCAF during WW II. Was he the world?s oldest airman? Our Association?s 50th Annual General Meeting. Highlights of the Association?s convention in Ottawa in October. Supersonic Billboards. A photo feature on Canada?s military aircraft painted in various commemorative colour schemes. Retreat From Hamburg. A WW II Lancaster bomber pilot recounts a particularly harrowing daylight raid on Hamburg. The Bridge. The gripping first-person account by a USAF F-105 Thunderchief pilot of a bombing raid on a bridge in Hanoi during the Vietnam War. Bridging the Atlantic. Norman Shannon writes of the WW II Ferry Command which delivered thousands of aircraft to Britain. Trenton Memorial Gates Reopen. Fifty years to the day after the Memorial Gates at CFB Trenton were dedicated, the ceremony is re-enacted. SAR Cormorant Flies the Atlantic. Canada?s new search and rescue helicopter visits Canada for a "show-and-tell" tour. Thumbs Up! – Kinship With a Duke. Fiction by Jim Shilliday where an RCAF Sabre pilot in the early 50s unknowingly encounters the Duke of Edinburgh high in the skies over England.
---

Cover Story
Features the exploits of 102-year-old Henry Botterell of Toronto, thought to be the only surviving fighter pilot of WW I.
Veterans' Pilgrimage to Korea. The story of a veterans' pilgrimage to Korea to celebrate the 45th anniversary of the cease-fire of the Korean War. Two RCAF veterans were along on the trip. Greece 1941
A first-person account of the Royal Air Force's retreat from Greece in 1941.
The Atlantic Challenge
The story of the first air crossing of the South Atlantic in 1922 by two intrepid Portugese aviators.
Kickers Progress
A story on tactical air dispatch originating in WW II and up until today.
Maritime Aviation in Canada
The 80-year history of maritime aviation in Canada is documented.
Operation Persistence
The recovery of the crash remains from Swissair Flight 111 near Peggy's Cove, NS, by air force personnel from 12 Wing Shearwater is documented.
The Flying Turnbulls
A short account of three brothers from a small Saskachewan town who each won a Distinguished Flying Cross during WW II.
Partnership for Peace
A story on a NATO exchange visit to the Czech Republic.
The Red Knight
A feature story on the Red Knight, an RCAF solo aerobatic act during the 1950s and 60s.
Operation Varsity – Part One
First of a three-part series by a WW II RAF glider pilot who was the only survivor of a glider crash during an assault on the Rhine, and was taken prisoner.
Plus…
Our Regular Guest Editorial
Association News
Of Interest items
Reviews
Airmail Or Letters To The Editor
Last Postings Or Death Notices
<
---
---
---
---
---
---
---
---
---
---
---
---
---
---
---
---
---
---
---
---
---
---
---
---
---
Fall 97. Cover Story – "Search and Rescue in Canada – 50 Years of Excellence"
Cover story which details the history of SAR in Canada.
Pride of the Lions
Retirement ceremonies at CFB Petawawa, Ont, and background story on the CH-136 Twin Huey helicopter following 442,620 fleet air hours.
Remembering Dieppe…
A veterans' pilgrimage to Dieppe, France, where the largest air battle of WWII took place on 19 Aug 1942
That Night at Tholthorpe
Story of incredible bravery in wartime England when air force people rescue survivors from the burning wreckage of a Halifax bomber crash.
Blondie's Ambition
A young Alberta farm girl joins the RCAF in 1951 and sets her sights on becoming a radio technician on jets.
Five on Five
First person account by a WWII Beaufighter pilot about an air strike on German ships in a Norwegian fjord.
Going it Alone – Larry Milberry and CANAV Books
A story on Canada's leading aviation historian and book publisher.
The Faces of Carl Schaefer
WWII war artist Carl Schaefer who depicted RCAF bomber operations over Germany is profiled.
The Biggest blast… Ever!
ONE MILLION POUNDS OF T.N.T. exploded at Suffield, Alta, in 1964 as a 407 Sqn Neptune flies directly overhead to photograph the blast.
Fido's Last Laugh
A humorous story by a former SAR Tech detailing his misadventures while rescuing a dog.
Plus…
* Our Regular Guest Editorial
* Association News
* Of Interest items
* Reviews
* Airmail Or Letters To The Editor
* Last Postings Or Death Notices
---
Summer 97. Cover Story – "The Mysterious Flight of KN 563″
The story of the recovery of the remains of six RCAF airmen killed in a 1945 Dakota crash in Burma, and of the recent funeral ceremony there.
To Burma and Beyond
The story of a round-the-world journey by the mourners in the previous story to bury their next-of-kin.
Photo spread: Golden Air Tattoo
The USAF 50th Anniversary air show at Nellis AFB, Las Vegas, Nevada.
Cliff Robertson's Spitfire
Story on famed Spitfire pilot Jerry Billing who still flies Cliff Robertson's Spitfire at air shows.
Night Approach
Short feature on a night approach to Lyneham, England, in a Hercules aircraft.
Germany After WW II
A story by a RAF flight engineer describing the devastation seen in Germany immediately following WWII.
Beaufighter
A first-person account of a Beaufighter attack on German shipping in Norway.
Boeing 707
Story on the retirement of the Boeing 707 from the Canadian Forces.
"Golden Years"
A story which brings back the "golden years" in the 50s and 60s when the RCAF ruled the skies of Europe.
Plus…
* Our Regular Guest Editorial
* Association News
* Of Interest items
* Reviews
* Airmail Or Letters To The Editor
* Last Postings Or Death Notices
---
Spring 97. Cover Story – "The Pathfinders"
Two cover stories featuring the World War II Pathfinder Force of Bomber Command, including interviews with veteran pathfinder aircrew.
Whiskey Whiskey Papa
Biographical story on famed Arctic bush pilot and WWII veteran "Weldy" Phipps, who died recently.
A Mexican in the RCAF
"The Unknown Ally," a story of the only Mexican citizen to serve with the RCAF during WWII..
"Friday the 13th"
Story on the roll-out of a restored Halifax bomber and the dedication of a Canadian Memorial Hangar in England.
Somalia Medal Approved
Canadians who participated in the United Nations Somalia mission, including members of an air force helicopter detachment will finally receive medals.
Plus…
* Our Regular Guest Editorial
* Association News
* Of Interest items
* Reviews
* Airmail Or Letters To The Editor
* Last Postings Or Death Notices
---
Winter 96-97. Cover Story – "The Avro Arrow Re-creating a Dream"
A trinity of three stories relating to the Avro Arrow jet interceptor, designed and built in Canada in the 1950's, and the Canadian Broadcasting Company's production of a docu-drama mini-series about the Arrow program.
Russian Glasnost Wows Canadians
An account of Canadian Forces participation in an international search and rescue exercise in Siberia in October.
Convention '96
Coverage of this years AFAC 48th Annual AGM.
Backyard Clunk
A story of a Fort Erie, Ont, man who owns and operates a CF-100 jet fighter flight and weapons simulator.
Canada's Top Guns
Canada's CF-18 team competes at William Tell 1996.
Plus…
* Our Regular Guest Editorial
* Association News
* Of Interest items
* Reviews
* Airmail Or Letters To The Editor
* Last Postings Or Death Notices
---