Air Marshal William Avery "Billy" Bishop, VC, CB, DSO & Bar, MC, DFC, ED, LL.D. (8 February 1894 – 11 September 1956) Memorial Trophy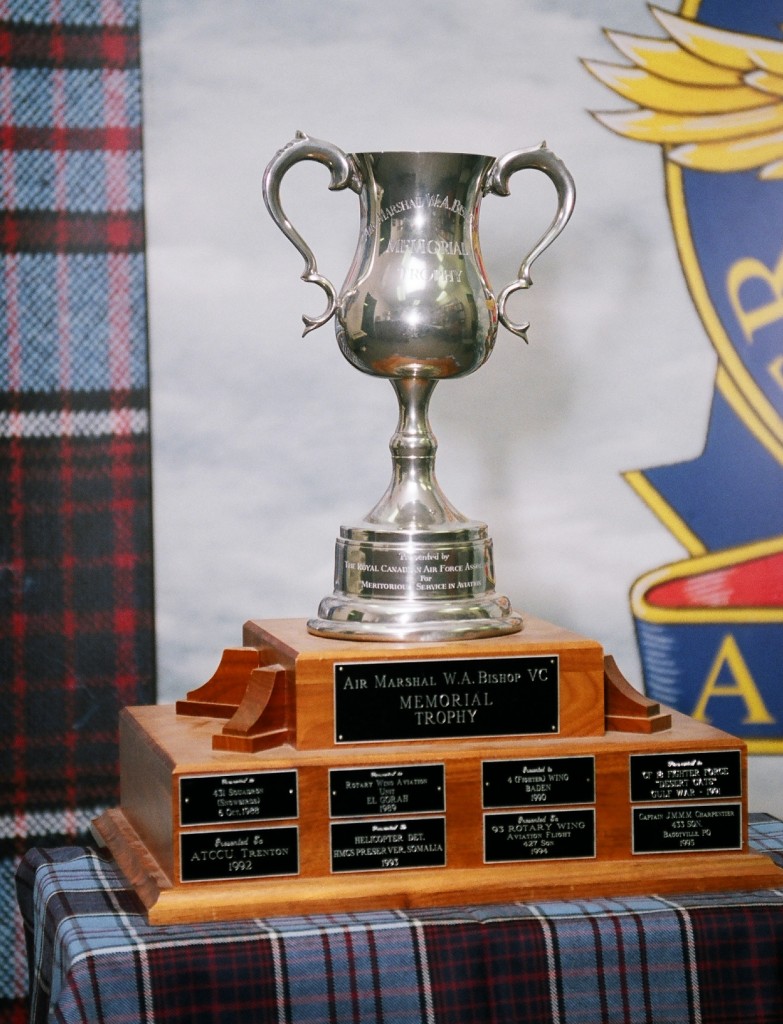 To learn more about the "Billy" Bishop Memorial Trophy and winners, please visit the page found here. "Billy" Bishop Memorial Trophy
Air Marshal Charles Roy Slemon, CB, CBE, CD (7 November 1904 – 12 February 1992) Memorial Award
John Alexander Douglas McCurdy (August 2, 1886 – June 25, 1961) Memorial Trophy

F/Lt Douglas Marshall "Bitsy" Grant, DFC, (1920 – 1943) Memorial Award
This award is presented annually to the "Air Reservist of the Year" and was established in 2000 at the instigation of the Air Reserve to recognize the outstanding service of pilot F/L Duncan Marshall Grant of 400 Squadron, now a CF Air Reserve Squadron, killed in action 28 September 1943 over Paris, France when his Mustang aircraft was hit by flak and crashed.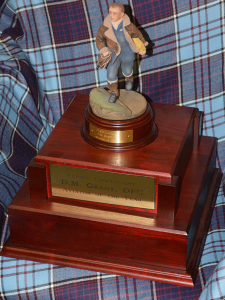 Gordon Roy McGregor, CC OBE DFC (September 26, 1901 – March 3, 1971) Memorial Trophy

Golden Hawks Trophy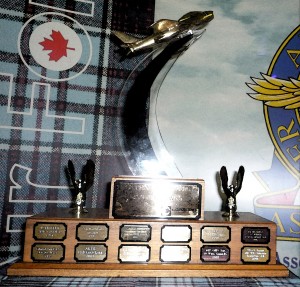 Andrew Charles "Andy" Mynarski VC (14 October 1916 – 13 June 1944) Memorial Trophy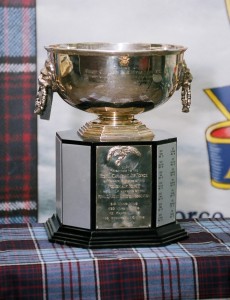 NORAD Commemorative Trophy
RCAF Association Trophy
Awarded annually to the Air Cadet Squadron deemed the most proficient in Canada.
Ordre de la Tuque
Instituted by RCAF Association Quebec Group
Order of the Golden Buffalo
Instituted by 500 Wing (Winnipeg) in 1964 in recognition of outstanding service to the RCAF Association.
-inaugural winner Mr. Herbert M. Bell (see Roundel, May 1964, Vol 16 no 4).
Order of the Side-hill Gouger
Instituted by RCAF Association Alberta Group
Order of the Big Foot
Instituted by RCAF Association Pacific Group
Order of the Golden Lobster
Instituted by RCAF Association Atlantic Group
Order of the Canadian Shield
Instituted by RCAF Association Ontario Group