Air Marshal William Avery "Billy" Bishop, VC, CB, DSO & Bar, MC, DFC, ED, LL.D. (8 February 1894 – 11 September 1956) Memorial Trophy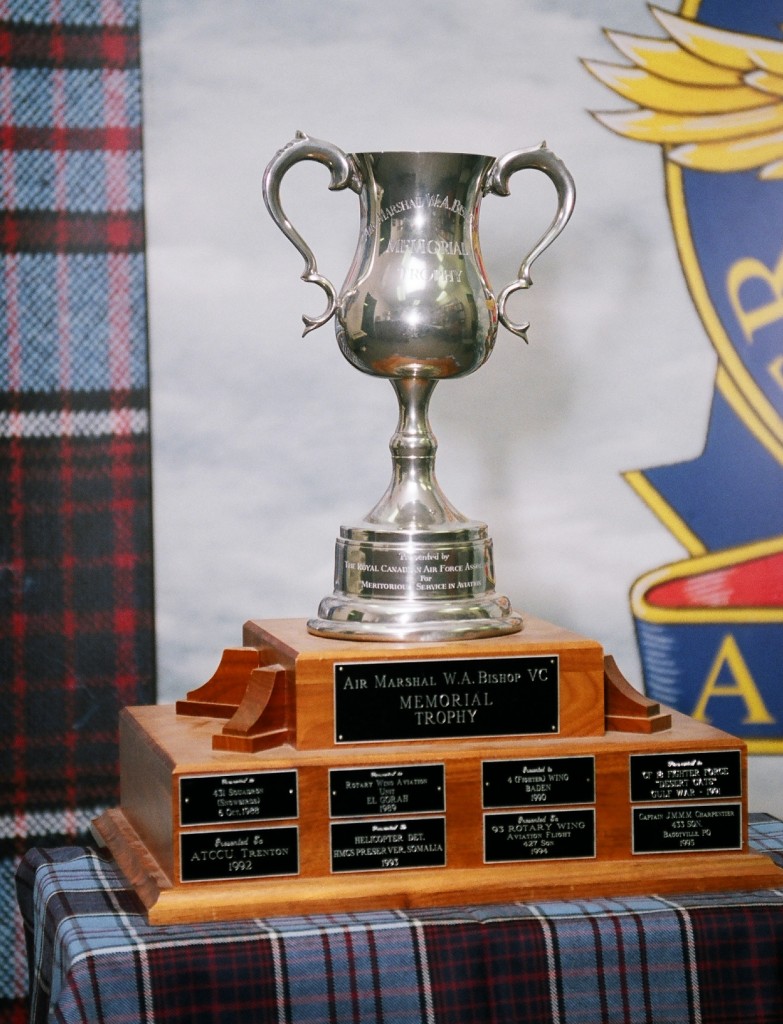 To learn more about the "Billy" Bishop Memorial Trophy and winners, please visit the page found here. "Billy" Bishop Memorial Trophy
Air Marshal Charles Roy Slemon, CB, CBE, CD (7 November 1904 – 12 February 1992) Memorial Award
John Alexander Douglas McCurdy (August 2, 1886 – June 25, 1961) Memorial Trophy

F/Lt Douglas Marshall "Bitsy" Grant, DFC, (1920 – 1943) Memorial Award
This award is presented annually to the "Air Reservist of the Year" and was established in 2000 at the instigation of the Air Reserve to recognize the outstanding service of pilot F/L Duncan Marshall Grant of 400 Squadron, now a CF Air Reserve Squadron, killed in action 28 September 1943 over Paris, France when his Mustang aircraft was hit by flak and crashed.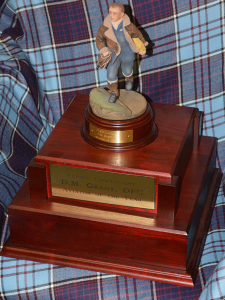 Gordon Roy McGregor, CC OBE DFC (September 26, 1901 – March 3, 1971) Memorial Trophy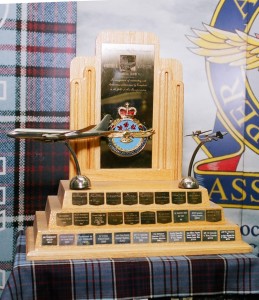 The Royal Canadian Air Forc1.: Association Gordon R. McGregor Memorial Trophy has been established by the RCAF Association lo commemorate the late Gordon R. McGregor, a Past Grand President of the Association, in recognition 'c:if his outstanding achievements in the field of air transportation in Canada. The inscription on the trophy stales "In recognition of out­standing and meritorious achievement by Canadians in the field of Air Transportation". Any Canadian citizen of good character, engaged in the fields of military and civil air transportation who has been recommend­ed, is eligible to be considered for the trophy which it is t:xpected may be awarded for the first lime al the 25th Anniversary Con­vention of the RCAF Association in Moncton, ew Brunswick, October I 0-13, 1973. The recommendation of potential candidates for the trophy may be made by an individual or a group who wishes to propose a candidate. All recommendations must be submitted on or before June 1st, 1973 in writing, lo the Secretary of the Screening and Selection Committee, National Headquarters, RCAF Association, 424 Metcalfe Street, Ottawa K2P 2C3, and each must contain a fully detailed and substantiated statement of the achievement or achievements that prompted the recommendation. The trophy may be presented annually: however, there is provision to withhold presentation if there is a shortage of suit­able candidates in any one year. Each recipient shall be entitled to hold the trophy for one year from the date of presentation and shall be presented with a suit­able plaque for his permanent retention. Establishment of this trophy represents an additional step in the fast developing program of the RCA F Association to become more deeply involved in all aspects of both military and civil aviation in Canada. A decision was made at the 22nd Annual Convention in Ottawa to establish the Royal Canadian Air Force Associa­tion Gordon R. McGregor Memorial Trophy "in recognition of outstanding and meritorious achievement by Cana­dians in the field of air transportation." This tribute to an outstanding Canadian Airman and a Past Grand President of the Association hopefully will achieve significant stature among Canadian Air Trophies. The selection committee has been chosen and it is hoped that the trophy will be awarded for the first time at our 25th Anniversary Convention in Moncton.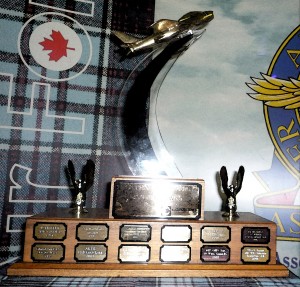 Andrew Charles "Andy" Mynarski VC (14 October 1916 – 13 June 1944) Memorial Trophy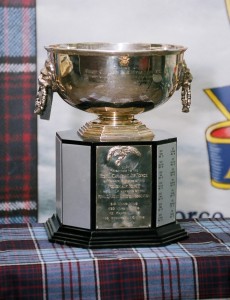 NORAD Commemorative Trophy
RCAF Association Trophy
Awarded annually to the Air Cadet Squadron deemed the most proficient in Canada.
Ordre de la Tuque
Instituted by RCAF Association Quebec Group
Order of the Golden Buffalo
Instituted by 500 Wing (Winnipeg) in 1964 in recognition of outstanding service to the RCAF Association.
-inaugural winner Mr. Herbert M. Bell (see Roundel, May 1964, Vol 16 no 4).
Order of the Side-hill Gouger
Instituted by RCAF Association Alberta Group
Order of the Big Foot
Instituted by RCAF Association Pacific Group
Order of the Golden Lobster
Instituted by RCAF Association Atlantic Group
Order of the Canadian Shield
Instituted by RCAF Association Ontario Group