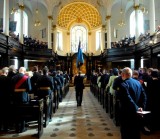 Current project information can be viewed here

---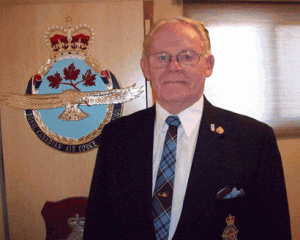 Chairman – RCAF Association Trust Fund Board of Trustees – Grant E. "Ted" Mahood, CD – National President, 2005-2007
.?National President 2005 – 2007; National Executive Council? 2001 – 2009; Ontario Group President 1997 -1999; Ontario Group Executive Council 1993 – 2001; 438 (Algonquin) Wing President 1991 – 1993; 438 (Algonquin) Wing Executive 1987 – 1995; Enrolled RCAF March 1957; Retired CAF (Air Element) May 1987; Joined RCAFA 1979.?
(Read more here…)
---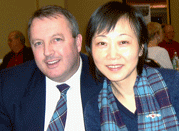 The Royal Canadian Air Force Association Trust Fund is served by two non-salaried personnel – LCol (Ret) Dean C. Black, CD is the Secretary to the Board of Trustees and Wenjun Song serves as the Treasurer. Dean served in the Canadian Forces air force from 1977 to 2007, when he retired and took up the Executive Director role at the Air Force Association of Canada. Wenjun joined the association as comptroller in March 2007, bringing her advanced accounting, auditing, investing and budget planning skills much to our benefit. Monthly reports are provided to the Chairman of the Board of Trustees,
and the Chairman produces quarterly reports
. If you would like to learn more about the
Trust Fund you can find the Fund Constitution here
.
---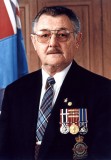 Trustee – C.L. "Tommy" Thomas.
Born in London England in 1935, and after formal education, was called up into the Royal Air Force for National Service duty in 1953 until 1955 as an Airframe Mechanic. After release from the RAF went to work as an Airframe mechanic in the civilian Aircraft industry at 8 MU Little Rissington Glos, England. In 1956 enrolled in the RCAF in London Eng, as an Airframe Tech and was posted to 406 Sqn Saskatoon Sask, working on B 25 Mitchell's. In 1958 was posted to RCAF Stn Greenwood, where he worked on the CP 107 Argus until 1966. At this time he Was posted to 129 Test & Ferry Flight, at 6RD Trenton where he crewed on various aircraft for the next few years. In 1973 he was posted to 4 Wing, Baden Sollingen West Germany, where he served until 1978 working on the CF 104 Starfighter. After a tour in Baden he returned to Canada and was posted to CFB Trenton where he worked on the CC130 and the Boeing 707 aircraft. In 1984, he was promoted to WO and assumed the position of the Boeing maintenance Crew Chief. After three years he was again promoted, this time to Master Warrant Officer and assumed the position of Deputy Repair Officer in charge of maintenance on both CC130's & the Boeing 707, as well as being the Snr trade advisor for the Aviation Tech's trades. Upon retirement in 1991 after 38 yrs in the Regular Force, he was commissioned in the Reserve as a Captain in the CIL now the CIC, and became the training officer with 704 Sqn RC (Air) CS Trenton. After three years he took over as the Commanding Officer and was promoted to Major, a position he held until 1997, at which time he became the Eastern regional Detachment Movements Officer. During this time, he also worked as the Ramp Manager for Skycraft Air Transport Inc, at the Oshawa airport, until their demise in 1993. After this he worked as the Ramp supervisor for Zenon Airport Environmental at 8 Wing Trenton in charge of Glycol recovery on the Ramp. In 2000 he finally retired after 47 yrs in the military, and assumed a position in the Ontario Provincial Committee of the Air Cadet League, as the Director of 85 Sqn Picton, 608 Sqn Belleville, and also 534 Sqn Peterborough. After five years he became Area Vice chair EOA (W) again, and still, over seeing Eight Cadet Sqn 's from Belleville to Bomanville. Back in 1989 while still in the Air Force, I was honoured to be selected as Airman of the Year by 413 Wing of the then RCAFA now AFAC. He has continued his membership ever since and was honoured again in 1996 as "Member of the Year" for Ontario Group. He served as President of 413 Wing for two years, from 2001-2003, and has been Sgt at Arms continually for the past 8 years, since 1991. In 1994 at the AGM in Windsor he was asked to be the Ceremonial Advisor's (Ed Walker) Assistant, A position he held until Mr. Walker's untimely passing, at which time he was asked to fill both his Ontario Ceremonial, & National Ceremonial Advisor positions. He is also the Parade Marshall for Br # 110 RCL Trenton, as well as the Parade Commander for the Ad Astra Stones Dedication Ceremony, held each year in September at the National Air Force Museum at Trenton. In 2008 at the ONT Group Convention at KIW, he was awarded the "ED Walker" Memorial Ont Group "Member of the Year", and this was followed in Oct at the National Convention with the 2008 "Len Baldock Memorial Award". These are two Awards that he has accepted with great honour. He is married to Jean (Smith), of Chipping Norton, Oxfordshire England, and resides in Trenton. Together they have two married Sons who both attended University, Stephen at Waterloo, and David at Wilfred Laurier, one living in Trenton, and the other now in Newmarket Ont, and are proud grand parents of six grand children.
---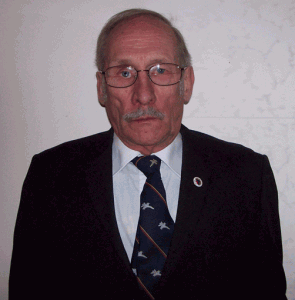 Trustee – Don Keath.
Born 26 November 1938, Kamloops BC
??Lived and educated in Trail BC 1940 to 1960
??16 postings with the RCAF/CAF ending in Cold Lake AB
??Graduated grade 12 1958, from JL Crow Senior High School, Trail, BC
??Joined RCAF December 1959
??Trained in the RCAF as an Aircraft Metals Technician, MOC 561, 1961
??RCAF Specialist welding course, 1965, 561-03
??Private Pilot training 1977/78
??CAF Safety Supervisors Course, 1980
??Mac-Air Maintenance Managers Course SX/J2
??Mac-Air Refinishing / Composite Structures Course, 1984, 561-05/563-07
??CAF Senior Leaders? Course, 1984
??CAF NDT Maintenance Managers course, 1984, 561-06
??On Job Training as an Aircraft Maintenance Engineer, aircraft structures, completed 1981.
??Aircraft structure repair and fabrication; steel tubing, sheet metal and composites.
??Industrial equipment repair and fabrication; welding, metal forming and machining
??Aircraft inspections, maintenance and repair
??1300 Hrs flying time
??Transport Canada licensed Aircraft Maintenance Engineer, Maintenance and Structures.
??Canadian Maintenance Council, Aircraft Structures Technician, Sheet Metal and Composites and Aviation Welding Technician.
??1958/59 Switchman for CPR
??29 years RCAF / CAF as a Aircraft Metals Technician MOC 561, ( 1959 to 1988 )
??28 years Civilian Aircraft Maintenance Engineer, ( 1981 to present ) Owner / operator? Nel-Lyn Aircraft Repair
---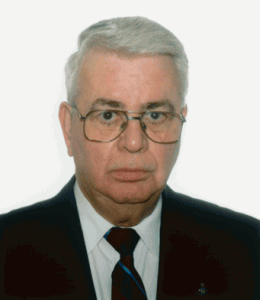 Trustee – Ivan W. Mackenzie.
Ivan Wendell MacKenzie was born in Charlottetown, Prince Edward Island in 1932. After completing his primary and secondary education in Summerside, P.E.I. and Saint John, N.B., he joined the Royal Canadian Air Force in 1950. He left the R.C.A.F. in 1963 with the intention of completing his post-secondary education. Upon release from the R.C.A.F., Ivan joined 200 (Summerside) Wing of the Royal Canadian Air Force Association where he was a member of the Wing Sponsor Committee for the local local Air Cadet Squadron and President of 200 Wing in 1968/69. After relocating to Charlottetown in 1970, Mr. MacKenzie transferred his membership to 201 (Confederation) Wing where he became a life member of the Association around the mid 1970s. After retiring back to Charlottetown, Ivan has been active in 201 Wing as a Trustee for two years and as Treasurer for one year. He also was a P.E.I. area Representative for the former R.C.A.F. Benevolent Fund during the last year of the Fund. Following his R.C.A.F. career, Mackenzie obtained employment with the P.E.I. Department of Education where for the next ten years he held several positions from electronics instructor to Director of the Division of Vocational and Continuing Education. In 1973 Mr. MacKenzie joined the federal Department of Manpower and Immigration as Manager of Manpower Training Programs for P.E.I. During the decade beginning in 1976, Ivan held a number of senior management roles with the Government of Prince Edward Island including General Manager of the Charlottetown Area Development Corporation, General Manager of Industrial Enterprises Incorporated and Deputy Minister of the Departments of Tourism, Industry and Energy and of Fisheries and Industry. In 1986 he moved on to Ottawa where he was Senior Policy Advisor and later Chief of Staff to the Minister of the Environment. In late 2005 Ivan MacKenzie finally retired back to Charlottetown from the Department of Foreign Affairs and International Trade where he was responsible for designing and overseeing the installation of various physical security systems for DFAIT assets located in Canada. Ivan and his wife Carol are thoroughly enjoying retirement in their apartment on the waterfront next to the Charlottetown Yacht Club.
---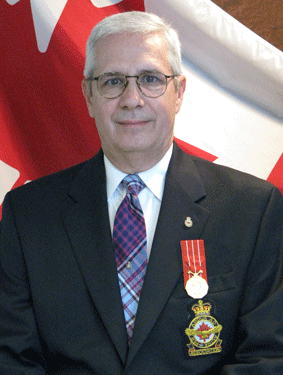 Trustee – Richard Valiquette, CD.
Richard enrolled with the RCAF? (Auxiliary) 438 Squadron as a Mechanic Air (Mech Air) on 11 May 1967.? After his RCAF Indoctrination Course, Richard graduated as an Aviation Technician from the Air Reserve Trade School, 17 Wing (Aux), Air Transport Command,? CFB Winnipeg AB on 23 August 1968.? Following his trade training, Richard served in various technical (CSR 123 Otter Aircraft) and training positions with 438 Squadron, 11 Wing (Aux), 1 Air Reserve Wing HQ and 1 Regular Support Unit (RSU) in Saint-Hubert? and with the Air Reserve Trade School (ARTS), CFB Borden ON and CFB Winnipeg MB.? On 19 June 1970 Richard completed the Instructional Techniques Course at the CF? School of Instructional Techniques, CFB Clinton ON, and the Instructional Supervisor Course? on 23 June 1972 at CFB Borden ON.? On 1 May 1972, Richard received the Air Cadet League of Canada?s Certificate for meritorious service to Escadrille 622 'Frontenac' Air cadet Squadron as Civilian Instructor.? In 1975, Richard? served in the SOSF (Flight Safety) office of 10 Tactical Air Group (10 TAG) HQ, Mobile Command HQ in Saint-Hubert QC.? On 17 July 1975, Richard graduated from the Warrant Officer Leadership Course at the CF Warrant Officer Academy, CFB Esquimalt BC.? Richard was commissioned from the ranks on 1 June 1977.? On 21 April 1978 he completed his Aerospace Engineering? (AERE) classification training at the CF School of Aerospace and Ordnance Engineering (CFSAO), CFB Borden ON.? During his AERE training Richard also completed the Nondestructive Testing (NDT) Training Maintenance Managers Course? (NDT 6) at the Aircraft Maintenance Development Unit (AMDU) CFB Trenton ON.? As an AERE officer, Richard served in various technical (CSR 123 Otter Aircraft and CH 136 Kiowa Helicopter) and training positions with 401 Squadron and 1 Air Reserve Wing HQ in Saint-Hubert.? Richard joined the Air Force Association of Canada in 2004.? He the President and charter member of Escadre 338 (Rive-Sud) Wing.? Richard is a Trustee to the Royal Canadian Air Force Association Trust Fund since 1 December 2009 . Richard is a member of the Royal Canadian Legion and serves as 2nd Vice President of the Brossard Legion Branch 215. In civilian life, Richard worked in the aerospace industry for CAE Inc. in the positions of? Project/Subcontract Manager for 26 years and in the Hydro Power industry with GE Hydro and Andritz Hydro as Contract/Commercial Manager from 2006 to 2009.? Richard is married to Marjolaine.? They live in Saint-Hubert, Qu?bec and have two sons, Louis and Andr?.
---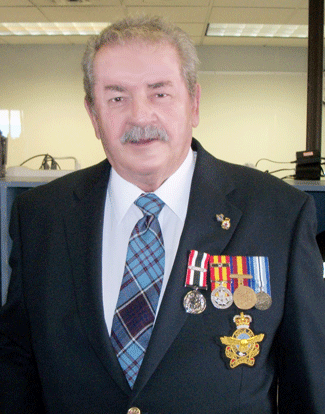 Trustee – Edward J. Bonthoux.
Edward was born at home on the family farm near Wingard Sask on May 11th 1933. One of five children, he was the son of a twice-wounded First World War veteran. Edward moved to Penticton BC in november of 1948, when he was only 15 years old. He worked on the Kettle Valley Rail Road (CPR) firing steam engines until full dieselization arrived. Edward joined the RCAF in October 1954 and left on compassionate grounds in 1958. He underwent basic training at St Jean Quebec, and contact training in Trenton. He completed trades school in Fire-fighting at Aylmer, Ontario. This took him to Stations #11SD Calgary Alberta, and #1 (F) Wing Marville France. Edward then joined the Penticton Fire Department in 1959 and retired in 1988. During these four decades he served as Fire-fighter,? Deputy? fire Chief and Fire Chief. He was awarded the Special Service Medal (SSM) with NATO Bar. He also earned the Exemplary Service medal and Bar, and the BC Long Service medal.? Edward was awarded the Royal Life Saving Society Alberta /Yukon? Diamond Jubilee? Medal for his efforts in Life Safety, and made an Honorary Member of the Korean/Vietnam Veterans? association(USA) for his work in support of veterans. Edward is a member of the Legion Branch #40 Penticton, BC, and has been since 1958. He earned various Office medals and bars, including two terms as President, the Life Membership award, and he was awarded two of the? Legion's highest awards: the Legion Meritorious Service Medal and Palm Leaf (LMSM). Edward joined the RCAF Association in 1984, and has served as the Air Cadet Liaison officer for 890 Wing.
---