---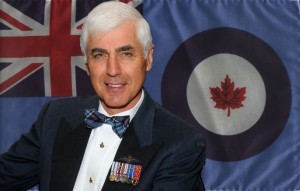 Terry Chester, CD, National President.
Terry Chester joined the RCAF in Sept 1964 through the ROTP program, receiving a BA from the U of Sask. He was awarded Navigator/RO Wings in 1968 flying for 3,000 hrs on the Argus Maritime patrol aircraft out of Summerside PEI. In 1972, Terry received his CF pilot?s wings in Cold Lake, AB and spent the next 8 years flying and instructing on the CP 107 Argus in Summerside, PEI and the O.T.U. in Greenwood, NS.? He was part of the CP 140 Aurora Team in 1980, that introduced the CP 140 to the CF as the Senior Flight Deck Instructor. ?Following Staff College in 1982, he spent several years in various staff positions years in Ottawa, and then was assigned as the Senior Staff officer for Pilot Training in Air Command, before command of 407 Maritime Patrol Squadron in Comox in July, 1990 Terry was then posted back to Ottawa in 1992, to work directly for the VCDS in the Executive Secretariat as an analyst, and was seconded to Mogadishu, Somalia for six months as the senior airlift control officer, responsible for the movement of millions of pounds of relief supples in spartan and hostile conditions. On return to Canada in 1993, he was appointed as the Senior Peacekeeping Plans officer, organizing and planning peacekeeping missions in Africa and South America, for two years. In 1994, he was posted to the Career Manager Division in NDHQ, responsible for all air force ranks below Colonel, some 18,000 people. In 1997, Colonel Chester was posted to NATO Air Base, Geilenkirchen Germany as the Commander Operations Wing, Chief Pilot on the AWACS aircraft and the Canadian Component Commander for four years, and had the opportunity to participate in numerous international operations, including the air war in Kosovo. He enrolled in the Primary Reserves in 2001 and spent four years as a special projects staff officer and consultant on air matters.? He was the Director of Armed Forces Day 2005 at 19 Wing Comox, was also engaged in Transformation projects for 1 Cdn Air Div. With a career spanning 42 years, some 10,000 flying hours and multi-command tours, he remained active in flying, maintaining a Transport Canada Flight Commercial pilot Qualification, instructing air cadets in the summer. He is a director at the Comox Air Force Museum and a board member of several community associations. He is married to Barbara Jean MacDonald of Port Borden PEI; their daughter Tara, is married to a USAF airman stationed at Luke AFB, CA, and their son, Jeff is a pilot in the CF. Terry & Barb have four grandsons, all of whom will aspire to careers in the air force.
---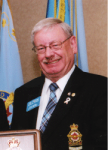 Brian W. Darling, CD, Immediate Past National President. Mr. Brian W. Darling, CD was born in England in 1940. While in grammar school in Ilford, Essex, he was a member of the Essex Regiment Army Cadet Corps. In 1953, his family came to Canada, settling in Saint Laurent, Quebec. From 1954 to 1959, he was an air cadet in 592 (Canadair Community) Squadron. During that time he attended summer camps at RCAF Stations Clinton and Greenwood and in 1958 was awarded a Flying Scholarship, earning his cadet wings and private pilot's license at the Montreal Flying Club.
Mr. Darling served for thirty-two years in the Air Force Reserves. He enrolled in the RCAF Primary Reserve (Education Branch) in the rank of Pilot Officer in 1961 and rejoined 592 Squadron as its Supply Officer. Between 1961 and 1974, he occupied various positions, including several terms as Commanding Officer of 592 and 588 (Canadair) Squadrons.
In 1974, Mr. Darling transferred to the Canadian Forces Primary Reserve (Air Reserve) and joined 401 (City of Westmount) Squadron as the Personnel Administration Officer in the rank of Captain. After completing STAR I (Staff Training Air Reserves) at Canadian Forces Staff School, Toronto in 1978, he was promoted Major and was transferred to 1 Air Reserve Wing in 1979 where he took up the duties of Wing Personnel Administration Officer. He returned to Staff School the following two summers as a member of the STAR I directing staff. In 1984, he completed the final phase of the Staff Training Reserves (STAR II) at the Canadian Forces Command and Staff College, Toronto. On returning to his unit, he was promoted Lieutenant-Colonel and appointed Chief Administrative Officer of 1 Wing and concurrently Commanding Officer of 1 Wing Headquarters. Subsequently his position was renamed as Senior Staff Officer Support (SSO SP) in 1 Tactical Aviation Wing. In 1991, he attended the National Security Studies Course at the National Defence College, Kingston. He transferred to the Supplementary Reserve in October 1993.
Mr. Darling has been active with the Air Cadet League of Canada for more than thirty-eight years. Between 1974 and 1988, he was a member of the sponsoring committee of the Canadair Air Cadet Squadrons and for a short period in the late 80s he was the Chairman of 622 (Frontenac) Squadron which was then sponsored by the Air Reserve Officers= Mess at St. Hubert. In 1988, he was elected as a Director (Squadron Advisor) of the Provincial Committee of Quebec and the Ottawa Valley of the Air Cadet League of Canada. From 1997 to 2005 he was the Regional Coordinator for the West Island Region, responsible for eight squadrons. He continues to be a squadron advisor in the Qu?bec and Ottawa Valley Provincial Committee.
Mr. Darling has been a member of the Royal Canadian Air Force Association (RCAFA) and the Air Force Association of Canada (AFAC) since 1976. In March 1993, he was appointed Honorary Quebec Group President RCAFA. He is the founding President of 394 (West Island) Wing AFAC. In May 1995 he was elected Vice-President of Quebec Group, and from May 1997 to April 2005 was Quebec Group President. He was elected National President of the Association in October 2009 and in October 2011 became the Immediate Past National President with the biennial election of a new National President. He also served as a trustee of the Royal Canadian Air Force Association Trust for several years.
In 2002, he was awarded the Queen=s Golden Jubilee Medal in recognition of his volunteer work to the Air Force Association and in the same year he received the Air Cadet League of Canada?s Certificate of Merit for meritorious service to the Air Cadet movement. In October 2005 he was awarded the Air Force Association's Meritorious Service Award. In October 2012, Mr. Darling was awarded the Queen?s Diamond Jubilee Medal.
Mr. Darling is a member of a number of other organizations including the Royal Air Forces Association (RAFA) (London, England); the Canadian Aviation Historical Society (CAHS); the Canadian Aeronautics and Space Institute (CASI); and the Royal Canadian Legion, where is serving on the executive of Pointe-Claire Branch No. 57. He is a Director and 2nd Vice-President of the Lakeshore Legion Housing Association, which oversees the management of the Seniors and Veterans Residence Manoir Cavagnal in Hudson, Quebec.
In civilian life, Mr. Darling is retired from the International Civil Aviation Organization (ICAO), a specialized agency of the United Nations, where he worked in technical, information technology and administrative positions for 34 years.
He is married to Patricia Wood of Dorval, Quebec. They have a married daughter, Karen, and a granddaughter, Abigail, living in Toronto, and a son, Kevin, residing in Pointe-Claire. Mr. Darling and his family have lived in Pointe Claire, Quebec since 1967.
---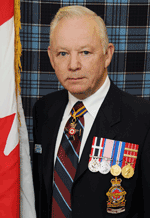 Lieutenant-General (Retired) Lloyd Campbell concluded a distinguished 37-year military career in 2003 as Commander of the Canadian Air Force. A former fighter pilot, he had previously commanded 1 Canadian Air Division and the Canadian NORAD Region (part of the bi-national North American Aerospace Defense Command); Canadian Forces Base Baden-Soellingen and 4 (Fighter) Wing in Germany; and 419 Tactical Fighter (Training) Squadron in Cold Lake, Alberta. In addition to command appointments, General Campbell held numerous key staff positions in Canada and abroad. Within National Defence Headquarters, he served successively as J3 Operations; Director General Force Development; Director General Strategic Planning; and, for an interim period, Vice Chief of the Defence Staff. He also spent three years in NATO, serving as Assistant Chief of Staff (Plans and Policy) at Headquarters Allied Air Forces Central Europe. General Campbell is a graduate of the Canadian Forces Command and Staff College as well as the National Defence College. He holds the degree of Commander in both the Canadian Order of Military Merit as well as the United States Legion of Merit. General Campbell and his wife Sharron are both avid golfers and alpine skiers and, of late, very doting grandparents.
---
---
---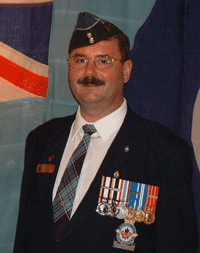 Greg Spradbrow, CD – 1st Vice-President. Greg Spradbrow was born and raised in Sarnia, Ontario on 06 July 1958. In 1971 he joined 44 Sqn RC(Air)C Sqn spending six rewarding years and earning his glider pilots wings. He enrolled into the Canadian Forces in 1977 as an Airframe Tech, he also joined 403 Wing RCAFA in 1978. After training Pte Spradbrow was posted to CFB Greenwood employed repairing Argus then Aurora aircraft, he transferred his Wing Membership to 107 Wing in 1981. Cpl Spradbrow was posted to CFB Trenton in 1984 where he worked in the AMSE shop. On promotion to MCpl in 1987 he was employed on Buffalo and Labrador aircraft with 424 Sqn. With this posting, Greg transferred his Wing membership to 413 Wing. On promotion to MCpl in 1987 he was employed on Buffalo and Labrador aircraft with 424 Sqn. No longer content to sit on the sidelines he served as Wing Secretary for 4 years, worked as volunteer bar tender and Colour Party member. During his time in Trenton, Greg also had the honour of serving on the Task Force to Restructure the RCAFA. In 1991 he was posted to 12 Wing Shearwater working on Sea King helicopters. While serving on HMCS Iroquois he participated in Operation Sharp Guard receiving the NATO Medal (Former Yugoslavia) and the CPSM. He also served on HMCS Halifax for two NATO deployments. During the second NATO his ship was redirected to the Persian Gulf for Operation Apollo (Afghanistan). He was awarded the SSM and SWASM. (Read more here…)
---
---
---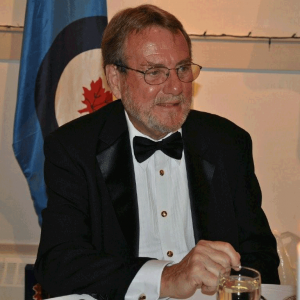 Guy Vallieres, President Quebec Group. Born in Magog, Quebec, Guy pursued his education both in Magog and Sherbrooke. He served with the Sherbrooke Fusiliers (Army Reserve), from 1954 to 1957. In 1957, he enlisted in the RCAF and was sent to RCAF Station St-Jean for basic training and upon completion was sent to RCAF Stn Aylmer, Ontario where he was trained as a Medical Assistant. Following training at RCAF Stn Rockliffe, he was transferred to Centralia where he spent the next 4 years. Further transfers brought him to North Bay Ontario, Holberg B.C. and back to St-Jean, Quebec. Guy remained in the service until 1967 when he opted for civilian life. He then worked in sales & marketing of accounting systems and office computers. He retired as Director of admissions of a private college (electronics) in 1996. He joined the Royal Canadian Legion in 1987 and is a Past-President of RCL Branch 234. He is currently serving as Chairman of Pointe-Claire Branch 57 of the RCL. He has also served 5 consecutive years as President of 394 (West Island) Wing of the Air Force Association of Canada and is currently serving as Quebec Group President, having been re-elected for a second term April 30th, 2011. He is an elected? Director of the Lakeshore Legion Housing Association (LLHA). Married to Solange, they are proud parents of two daughters and grand-parents of four.
---
---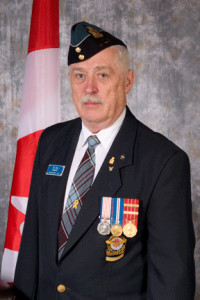 Ronald Leslie (Les) Ball, CD, President Ontario Group. Born Innisfail, Alberta, Les grew up and received his education in Botha, Alberta. Les joined the Royal Canadian Air Force in January 1963. After completion of initial training at St. Jean, Basic Electronics at RCAF Clinton, and Armament Systems Technician Trades Training at AETS, RCAF Stn. Borden, AC1 Ball was posted to 407 Squadron Comox where he was employed as an electronics technician in the Torpedo Section. In 1966 LAC Ball reclassified to the Flight Simulator trade and upon completion of trades training at CFB Borden, LAC Ball was posted to 449 Squadron, Greenwood where he was employed on CP 107 Argus Operational Flight Trainer and the Argus Tactical Crew Procedures Trainer. In 1974 Cpl. Ball was posted to CFB Edmonton and was employed in the maintenance of the C130 Hercules Flight Trainer. In 1984, Sgt. Ball was commissioned from the Ranks and after completion of Basic Officer Training at CFB Chilliwack, Lt. Ball was posted to CFB Borden for classification training as an Aerospace Engineering Officer (AERE). Upon Completion of AERE Training, Lt Ball was posted to CFSATE as an Instructor on the Aerospace Engineering Officer Basic Course. In 1988, Capt. Ball was posted to 440 Squadron Edmonton where he assumed the duties as the Squadron Aircraft Maintenance Officer. In 1991 Capt. Ball was posted to CFB Winnipeg to attend the year long Aerospace Systems Engineering Course # 44. In Aug 1992, Capt. Ball was posted back to CFSATE Borden where he was employed as Instructor on the AERE Basic Course, then the Aviation Flight Commander for MOC 500 training. In June 1993, he was promoted to Major and assumed Command of the CFSATE Air Technician Training Squadron for all MOC 500 training. In 1995 he was posted to 16 Wing, Borden and assumed the duties as the 16 Wing Operations Officer and also the duties as the Base Borden Flight Safety Officer. Major Ball retired in August 1996 ending a career spanning 33 and half years.
Les Ball has been a member of the Royal Canadian Air Force (RCAFA) 1985 – 1988 and the Air Force Association of Canada (AFAC) since 1992. In 1992 Lt. Ball was appointed as the CFB Borden Liaison Officer to RCAFA 441 Wing, Barrie. In addition Lt. Ball was also appointed as the CFB Borden Liaison Officer to 102 RC(Air)CS in Barrie. To aid 102 RC(Air)CS, Lt. Ball carried out the weekly duties as the Range Safety Officer assisting the cadets in learning correct marksmanship training. In 1993 he was elected to the Treasurer's position on the RCAFA 441 Wing Executive and carried out these duties till the summer of 2008. Les was elected in 1994 to the Ontario Group Executive as the Central Region Vice President. In 1997 he was elected as the Second Vice of Ontario Group and 1999 he was elected First Vice President. In 2001 Les was elected President of Ontario Group and also assumed the duties of as a Director on the NEC. In 2008, Les and his wife transferred their membership to 429 Georgina Wing and in 2010 Les was elected as a Director to the 429 Wing Executive, a position which he still holds. At the 2013 Ontario Group Convention Les was reelected as the Ontario Group President.
---
---
---
---
---
---